Keyword research is more than just SEO work, it's market research
by Tim Rimington | April 18, 2011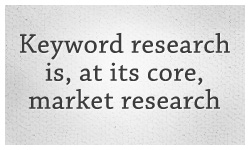 Even if you feel you don't have a broad understanding of SEO keyword research, most people can say that they're at least familiar with the term 'keyword'. However, it's the use of keywords on a web site and how to choose keywords that many people still don't understand.
Optimising your web pages for search engines is, in essence, fairly straightforward. But it's the keywords you use that will directly impact your optimisation work on the page, and ultimately, across your web site as a whole.
What are keywords? Step outside the online square
Researching keywords is a fundamental component of marketing. Regardless of whether you're writing copy for web, print, radio or television, keyword research is all about understanding your market; finding out what your market wants and what they search to get it.
Imagine this scenario: there are no search engines to deliver traffic to websites. Would keyword research still be important? Absolutely!
Keyword research, at its core, is market research. It tells you what people are searching for, how they're searching and what phrases or language they're using. Remember, copywriters were doing keyword research long before the internet even existed.
Find the right words then put them to work
At the deepest level of marketing theory, keyword optimisation has little to do with SEO. Keyword optimisation is about understanding your customers (your readers) so well that you know which words and phrases grab their attention, earn their trust and evoke enough emotion that they follow your page's path to the holy grail: conversion!
So what are people searching for? Keyword research tools are all over the web, some are free, some you pay a monthly subscription for. If you have a Google Analytics or AdWords account then you have free access to Google's own keyword research tools. If you don't already use them, get to know them and research ways to use them (you can get a quick overview from within our SEO white paper, a free downloadfrom our website).
Keyword research tools show you the popularity of search terms (or keywords) that people use to search for products, services or information on the web. Once you learn how popular a specific term or keyword is, you can then put that knowledge to work on your own web pages, web site and blogs.
The Holy Grail of keyword research is to locate and then nominate a niche, before adopting that keyword/keyphrase niche as your own. This is where well-researched SEO campaigning begins.
A few tips from the late copywriting genius, Eugene Schwartz
Eugene Schwartz was (and still is) a legend in the world of copywriting and his many books are still studied by copywriters the world over. Here are 8 great rules of marketing from Eugene Schwartz:
1. Be the best listener you ever met
It's claimed that Eugene Schwartz would get into a taxi and begin to interrogate the cab driver! It's said that he did this because it was one way to tap into what the market was saying (the late Kerry Packer was also said to have done something similar).
2. Work in intense, short bursts
This increases productivity. Focus all of your energy on one copywriting task, don't multi-task, and then move on to your next task when you're done.
3. Know your product to its core and communicate its strengths in new ways
Hold your product until you know it intimately. Learn its strengths and combine those strengths before presenting them to your audience.
4. Write to the chimpanzee brain - simply and directly
Your customer may not be as smart as you think. Or, in other words, don't overestimate your customer's intelligence but speak to the lowest common denominator. Don't make assumptions.
5. Channel your demand - never sell
Do not create desire for your product but instead take an existing market demand, and channel it into your products. So for example, for a market that enjoys cupcakes, you don't create a desire to eat your cupcakes. Tap into what the market already wants and channel it back, because that way, the chance of success is a lot higher.
6. Think about what your product "does", not "is", and demonstrate this
Talk about the benefits of your product, and talk even more about the emotional benefits. Allow the features to take a back seat.
7. Make gratification instantaneous
In the copy or marketing itself, your prospect should begin to get gratification from what you're presenting, or at least feel as if they're already getting something from you or your product. This is what product launch formula encourages, so for example; a marketeer gives product samples: they're giving you a taste of the product so that instead of mere curiosity, it is instead genuine desire that drives you to buy.
8. Failing often, and testing big differences, shows you are trying hard enough
If at first you fail, fail and fail again! Research doesn't always hit the mark so if you fail initially, go back and try again. Continue until you succeed. If that means repeat failure at first, then take that on board as part of your overall research path.
If your web keywords need some attention then give us a call
Today's SEO keyword research blog warrants much more than a few paragraphs, and of course the nuts and bolts of SEO keyword research and copywriting are quite involved.
Please give us a call or drop us an email if you'd like to discuss your own keyword and copywriting campaign. We can guide you on what needs to be done to your own website, then offer advice accordingly, just ask for Chris Sutton or Tim Rimington.
info@sitesuite.com.au
(02) 8904 7500
credits:
Eugene Schwartz observations: mind valley labs blog
Inspiration for today's topic: copyblogger.com
<!#--#include virtual="/app/comments/ajax/list/article_keyword-research-more-than-just-seo-market-research?rurl=%2Fapp%2Farticles%2Farticles%2Fview%2Fkeyword-research-more-than-just-seo-market-research" -->
Don't Miss Anything
Get email updates when the next blog is posted.