Choosing an SEO Company
If you are thinking about hiring a Search Engine Optimisation (SEO) company, remember:
SEO companies do not control the search engines
The only people who know exactly how web pages are ranked are the software engineers employed by the search engines (e.g., Google, Yahoo Search, Live Search, etc). SEO companies look at the search results and try to work out how the search engines operate, using their conclusions to come up with strategies for improving their clients' search engine ranking.
SEO companies face three main challenges:

The search engines do not reveal the algorithms they use for ranking web pages.
The search engines change their algorithms for ranking web pages, so what works for an SEO company one month may not work the next.
The search engines do not want their results to be manipulated by SEO companies or website owners, so they apply page ranking methods that cannot be easily influenced.

Be wary of any SEO company that promises to get your site to number 1 in Google's search results for a particular keyword, especially if they say they can do this within a few weeks or months. SEO companies can use methods intended to make your site more appealing to the search engines, but they cannot make any guarantees as to how the search engines will respond. It can also take many months to see results from SEO work.
If the SEO company suggests that one method alone will act like a magic bullet in improving your search engine ranking, they are over-simplifying things. The search engines use a range of criteria to rank web pages.
Rogue SEO companies can harm your site's ranking
SEO is a relatively new, specialist industry and ethical standards will vary from company to company. SEO companies can employ deceptive methods that actually harm your site's search engine ranking or even result in your site being removed from the search engines' indices (the equivalent of having your site sent to Siberia!). Whilst these deceptive methods might boost your site's ranking in the short-term, the long-term results may harm your business, so ask your potential SEO company if they follow Google, Yahoo and Live Search's webmaster guidelines.
Google's Webmaster Guidelines
http://www.google.com/support/webmasters/bin/answer.py?hl=en&answer=35769

Yahoo's Webmaster Guidelines
http://help.yahoo.com/l/us/yahoo/search/basics/basics-18.html

Live Search's Webmaster Guidelines
http://help.live.com/help.aspx?mkt=en-au&project=wl_webmasters
Ask the SEO company what methods they suggest for improving your search engine ranking. If they suggest adding hidden text, hidden links, creating mini-sites that redirect people to your main site and other sneaky methods designed to trick the search engines and Web users, be extremely wary. Using these 'black-hat' methods can result in your site being removed from the search engines' indices.
Organic search results and paid ads are not the same
Be wary of any SEO company that does not make a clear distinction between improving the position of your web pages in the organic search results and improving the position of your paid ads (also called Pay-Per-Click ads, sponsored links or search engine marketing). If you throw enough money at it, anyone can improve the position of paid ads. Improving the position of your web pages in the search results is more time-consuming and complex.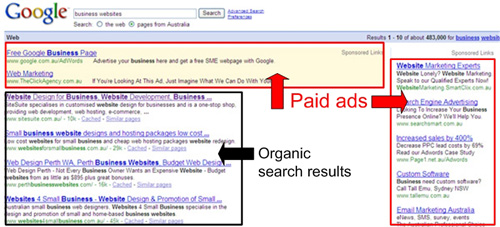 Not all inbound links will improve your search engine ranking
Ask the SEO company what methods they will use to improve the quality of links on other sites that lead to yours. Which sites, blogs and directories will they obtain links from and why do they recommend them? Are they relevant to your industry, business, product or service?
If the SEO company offers to submit your site for listing in hundreds of directories or search engines, be wary. Not all directory or search engine listings are valuable. Being listed on 'link farm sites' (ones that group hundreds of unrelated sites together purely to trick the search engines, not to help Web users) won't help at all. Furthermore, you don't need someone else to submit your site. At best, the SEO company will be saving your time by completing the submissions for you.
Paid links on other websites won't improve your organic search engine ranking. They may help potential clients find you, but they won't lift your site in the search results. The search engines disregard anything that looks like a paid link or ad.
Set clear goals and know your own clientele
Being listed higher in Google's search results or getting more traffic to your site won't help you unless the site visitors become clients.
Ask your clients how they heard about you and if they can remember what words they used in the search engines when looking for your product or service. Compare the feedback you get from clients to what the SEO company suggests for keywords, directory listings and links from other websites.
Competing for top search engine ranking for very broad keywords (e.g., 'shoes') can be extremely expensive and may be an unrealistic goal for small business owners. A more realistic goal may be to focus on the region that you service (e.g., 'Sydney shoe shops') and/or niche market needs (e.g., women's shoes in size 9 and over).
Ask who will write the copy
Will the SEO company write the new and improved copy for your site? If not, they may tell you what words to include and how much text to write. Ask how much guidance will be provided.
SEO involves research and takes time
The search engines have billions of web pages to index, rank and revisit. For this reason, it may take months – or longer – to see the results of your SEO work.
Because SEO takes time, you will find that many SEO companies offer ongoing reporting and support over several months or a year.
The better SEO companies will take the time to learn something about your business, your industry, your clientele, where your competitors are ranked in the search results and why.
Look at the results
Ask for references and ask the SEO company's former clients about the return they received for their investment.
Do a Google Australia search for keywords such as 'search engine optimisation' and 'SEO'. The companies who appear on the first page of Google's organic search results (not the paid ads) are probably doing something right!
Related articles