Inbound Links
Why you need inbound links and how to get them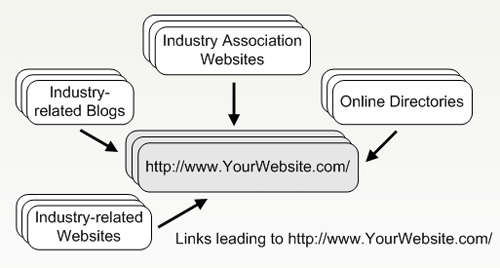 What is an inbound link?
Inbound links are links on other web pages that direct customers and search engines to yours.
For example, the Australian Publishers Association may list the full web address of Page Turner Publishing (http://www.pageturnerpublishing.com.au/) on its members page. This is one of Page Turner's inbound links (i.e., people can find Page Turner's site via the Australian Publishers Association's site).

Inbound links are also known as 'backlinks'.
Why does my business need good quality, relevant inbound links?
They help customers find you on the Web via other websites and blogs.
The more you have, the more highly the search engines rate your web pages.
One of the most important factors determining how the search engines rank your web pages is the number of relevant, good quality websites and blogs that have linked to yours. The search engines like inbound links for three reasons:
Inbound links help the search engines identify the nature of your business. For example, if the Australian Institute of Professional Photography's site links to Happy Snaps Melbourne, that suggests that Happy Snaps has something to do with professional photography in Australia.
Inbound links are road signs pointing to your location and help search engines find your web pages. The search engines have billions of web pages to index. You need to give them as many opportunities as possible to find and revisit yours.
The search engines treat inbound links as favourable references or 'votes' for your web pages. If other website and blog owners think your web pages are worth linking to, the search engines assume you must be offering useful information and be an authority in your field.
Apart from improving the search engines' ranking of your web pages, you need inbound links to help customers find you. It is risky to be totally dependant on the search engines to bring people to your site, because the search engines frequently change the way that they rank web pages and it can take 12 months or more for the search engines to index and favourably assess your pages.
You can alert people to your web address via off-line marketing (e.g., print advertisements) and inbound links on other websites and blogs. For example, if your website is listed in an online business directory (e.g., True Local, Yellow Pages), customers who use that directory can find you.
Good Quality, Relevant Links
'Good quality' inbound links are those from older, reputable websites (ideally, those from .gov, .org and .edu domains). 'Relevant' links are those from web pages that are related in some way to your industry, products or services. For example, links from a wine expert's web pages to yours are relevant if you produce, sell, distribute or review wine.
Remember, the search engines are trying to help users find useful information relevant to their search queries. A link from a café website that points to Happy Snaps' site won't boost Happy Snaps' search engine ranking for 'wedding photography', but links from good sites and blogs about weddings and photography will.
Tip: Links for which you have paid, or links you have exchanged with other site owners, will not boost the ranking of your web pages in the search engines, but they can help people find your site.
I've got a links page on my site. Does that help?
Your links page acts as favourable references or 'votes' that you've given to other websites. What you really need is for other website and blog owners to 'vote' for your site by linking to it.
How do I get inbound links?
Good Content
The best way to get inbound links is by including informative, helpful text information in your web pages, so that other site and blog owners will want to link to them. The search engines rate these 'natural' links highest of all and give your web pages a higher ranking if you have them. Share your expertise with your customers. Improve your web pages with our content tips.
Tip: Links that are included within paragraphs of information are rated more highly by the search engines than those that appear in long lists or in isolation on a page.
Example of one of Happy Snaps Melbourne's inbound links appearing in testimonials on Greythorpe House's website:

"Greythorpe's staff put us at ease and our big day was just perfect. Our wedding photos were taken at Greythorpe House by Happy Snaps Melbourne, who were recommended by Greythorpe. Greythorpe's ballroom and gardens provided the perfect backdrop and Happy Snaps were helpful and professional." Jane and John Doe
Industry Associations
Persuade the owners of respected, popular and relevant websites and blogs that have been established for at least 12 months to link their sites to yours. Relevant websites include professional associations for your industry, manufacturers of the products you sell, industry expert sites, etc, if links from those sites to yours will be beneficial to people searching for related information.
Give the website or blog owner the text you want them to use in the link, including your keywords, starting with the most important keyword, and your full website address, including http://www.
Example (based on the keywords 'wedding photographers in Melbourne'):

Wedding Photographers in Melbourne at http://www.HappySnapsMelbourne.com/



If the website owners understand how to use HTML (standard code for websites), ask them to add a link to using this format:

<a xhref="http://www.mybusiness.com.au/">Keyword description for my business</a>



Example:

<a xhref="http://www.happysnapsmelbourne.com/">Wedding Photographers in Melbourne at Happy Snaps</a>

It will look like this on a web page:

Wedding Photographers in Melbourne at Happy Snaps
Tips:
Do not link to or exchange links with sites that are created purely for boosting search engine rankings, rather than to help people find related information. The search engines penalise these 'link farm' sites. Such 'link farms' commonly use automated systems to exchange links with thousands of other website owners quickly and indiscriminately. Be wary of e-mail invitations to exchange links that read like form letters. Remember, the search engines like links that help people find information that is relevant to their search enquiry.
The search engines prefer sites that have unique content, so affiliate schemes linking sites that contain duplicate content won't improve your search engine ranking.
Links that direct people to relevant pages within your site are helpful. Let's say you are a corporate trainer, personal coach and public speaker and your website is split into these three main areas. If your training skills are mentioned favourably on a corporate site, a link that takes people straight to your training page instead of your home page is best, because it directs people to the service in which they're most interested.
You can include instructions on your site for other website owners.
Example:

If you like our site and would like to recommend it to others, please paste this link into your site or blog:

<a xhref="http://www.happysnapsmelbourne.com/">Wedding Photographers in Melbourne at Happy Snaps</a>

or send this link to a friend:

Wedding Photographers in Melbourne at http://www.HappySnapsMelbourne.com/
Online Directories
One way to help people find you is to have your site listed in search directories. See our web design glossary for an explanation of the difference between search engines and directories.
See Hitwise Australia's tips on directories.
The Open Directory Project
This is the most important search directory. It is frequently scanned by the search engines. Submission is free, but may take months, and not all sites are accepted.

http://www.dmoz.org/add.html
Google Australia Maps
https://www.google.com/local/add/login?continueurl=http%3A%2F%2Fwww.google.com%2Flocal
Yahoo! 7 Local Search
http://au.local.yahoo.com/submit.html
Ninemsn mylocal
http://mediacentre.ninemsn.com.au/img/mylocal/info_pack.htm
Other directories
Other directories include local, shopping and service directories, such as Priority Listings with Yahoo! 7 Local Search (Australia) and Yahoo! Directory Listings (International) https://ecom.yahoo.com/dir/submit/intro/.
Check if they charge for listing your site, or when customers click on your site or products. Once your site is listed, use your SiteSuite statistics (Top 100 URLs Report) to see if these directories are driving traffic to your site.
Sponsorship
Sponsoring other websites and blogs that are relevant to your industry is one way to increase your inbound links.
Ask the owners of the site you sponsor to include a link to your full web address (including the http://www.), your company name, logo and a description that summarises what your business does and includes some of your keywords (e.g., Wedding Photographers in Melbourne http://www.HappySnapsMelbourne.com/).
Social Bookmarking
Does your business or organisation have a social aspect (e.g., music, festivals, community events, awareness groups and causes)? If it does, encourage customers to return to your site and promote it amongst their peers with social bookmarking tools. These enable customers to bookmark sites, share bookmarks with others and search for sites of interest.
Bookmarking sites include del.icio.us, Digg, Furl, Ma.gnolia and StumbleUpon. One example is the tool provided by http://www.addthis.com/, which allows customers to bookmark your site through a variety of these social sites.
Who can help me with inbound links?
Search Engine Optimisation (SEO) professionals can help by submitting your site to important directories and identifying opportunities to increase your inbound links.
We have formed a partnership with RankLogix, a proven specialist in SEO services, to provide a complete SEO management service. As a SiteSuite client, you are eligible for discounted pricing for these SEO services. Please call 1300 130 875 for more information or for a quote on your SEO requirements.
Related articles on site promotion and optimisation
How to create search engine-friendly content
How to promote and optimise your business website
How to optimise your page titles
Top 10 Search Engine Optimisation tips