Congratulations on finding the kryptonite link!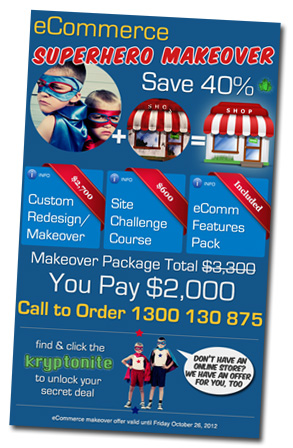 To get to this page you have found and clicked on the kryptonite link on our latest newsletter, so you already know about the great website makeover offer we have for you.
But we know times are tough for businesses everywhere, so we've included some additional bonuses to make it even easier to upgrade your website.
Bonus 1
We know cashflow is tight for many businesses, to make it easier your website makeover payment can be spread of 4 monthly payments of $500 per month plus GST.
Bonus 2
We'll give your business a boost by including links to your website in our social media activities. You'll reach a wider audience and we'll continue the kind words every day for an entire week. In addition, we will provide a free assessment of your own social media activity
Not sure if your website needs a makeover?
Give us a call on 1300 130 875 (ask for Chris or Grant) and we'll assess your current website on the spot and give you a frank appraisal and some recommendations.
And a final bonus…
The following links are to our new eBook PDF series, you can download these for free.

Build Effective Web Content

SEO Principles & Techniques

Social Media to Drive Traffic