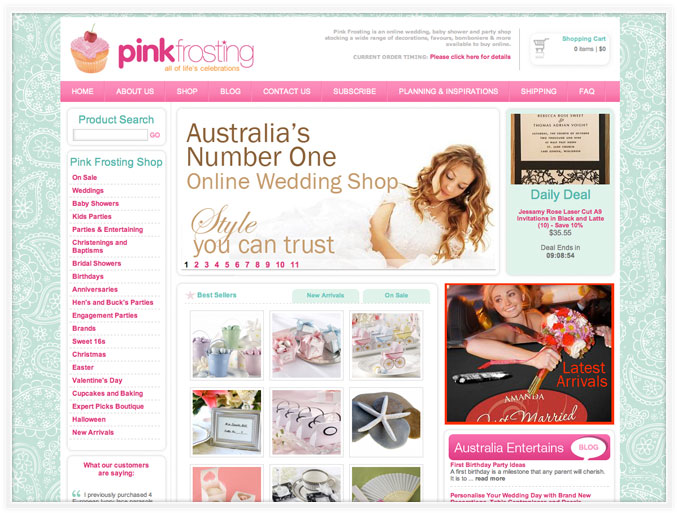 The Objective
Pink Frosting approached SiteSuite with the challenge of bringing their original website and online store to the SiteSuite CMS platform. The business provides a comprehensive selection of decorations for weddings, baby showers, seasonal celebrations and more, so it was important to also provide a place where customers could obtain decorating advice and insights as well as party planning and inspiration.
Our solution
The SiteSuite content management system provides blogging tools, advanced category management as well as email newsletter marketing tools. A highly customised MYOB integration tool has been built into the website to facilitate order fulfilment and accounting. Banner advertising was also recently introduced to capitalise on the website's large volume of traffic.
The Outcome
Pink Frosting has experienced dramatic growth and ranks as Google's #1 online wedding decoration business. This was assisted greatly by the SiteSuite CMS's ability to generate Google-friendly URLs and product descriptions.
What the client has to say
Pink Frosting moved to Sitesuite in October 2008 as a small e-commerce site. Since then our online business has grown to be one of the top 10 gift and homewares websites, and the number one online wedding shop, in Australia. The team at Sitesuite have helped us achieve this astounding growth through their willingness to listen to our business goals, provide expert advice on websites and e-commerce solutions and their ability to turn an idea into reality without any fuss. The lack of down-time, access to help 24-7 and excellent service don't hurt either!
We feel that the staff at SiteSuite are an extended part of the Pink Frosting team. We look forward to a continuing relationship with SiteSuite as we grow further in the future.
Kathryn Porritt, Director
Read Kathryn's guest blog and learn how Kathryn built the Pink Frosting business.