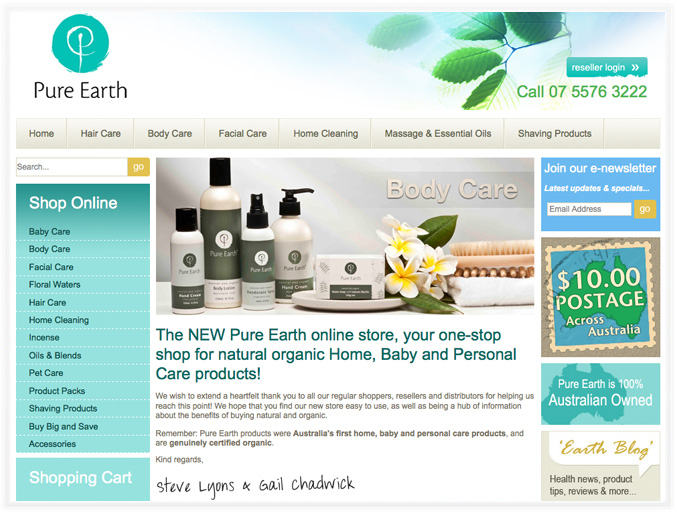 Cautious Approach Pays Dividends For First Venture In Online Retailing
Just months after Gail Chadwick and Steve Lyons left "bricks and mortar" jobs for their first venture into online commerce they found themselves at a crossroad which a growing number of small to medium online businesses are fast approaching.
They faced a decision about how to grow Pure Earth Australia Pty Ltd, the online cosmetics and home care products business that they had purchased on Queensland's Gold Coast.
Their first venture into retailing as well as a new way of doing business, the Pure Earth owners were cautious - not understanding the demands of an e-commerce system and wanting to avoid the possibility of over-capitalising.
Did they choose a richly-optioned open source e-commerce website at no upfront cost but which would call for a steep learning curve and extensive hands-on management? Or did they stick with Sydney headquartered SiteSuite, the incumbent supplier of the e-commerce website to the business?
"We stuck with SiteSuite not just because its first e-commerce system had helped get the business through its start-up phase under its initial owner, but because SiteSuite showed us the roadmap for the next release of its system and where e-commerce was going so it would grow in importance for retailers and for shoppers.
"That roadmap pointed to a range of functions which are far more intuitive and easier for business people like us to use. Those functions are now helping ensure that Steve and I can get on with developing the business and not have to go through a steep learning curve or commit large amounts of time to administration", Gail Chadwick said.
Despite the media coverage given to E-commerce, only about six to eight percent in dollar value terms of all retail sales are made online in Australia.
Analysts contend this is because small to medium enterprises (SMEs) have been reluctant to adopt systems that are difficult to set up, difficult to use or not designed for high volume environments, even if they are open source products available at no upfront cost.
The Pure Earth experience exemplifies a major change now taking place in the functionality of e-commerce systems.
Following an extensive development project which set out to address the challenges being faced by SMEs, the newest version of SiteSuite's software incorporates critical functions such as "set and forget" capabilities to automate sales campaigns, search engine optimisation and social media integration, all of which are combined to provide end-to-end management of an e-commerce website and deployed using Software as a Service (SaaS).
Unlike many other businesses which have gone down the online commerce road Pure Earth is also a manufacturer. As such it is keen to create the sales volumes to keep its production lines ticking over.
Says Steve Lyons, "creating product promotions is now much easier. We can make the online store look just like a bricks and mortar store by automatically rotating featured new and sale products on the home page and showing customers something new on return visits."
From the shopper perspective, buying can be a more streamlined process, allowing the creation of customer profiles for checking order and shipping status, as well as permitting the uploading of product reviews.
This obviously reduces the need for store administrators to answer customer enquiries by email or telephone.
While this is their first venture into E-commerce, Steve and Gail both have backgrounds relevant to the issues thrown up by the online environment and to the products which they both manufacture and sell.
Steve was involved in sales in the garment industry and also worked for big names in the personal care products market. While Gail was a trainer in the hospitality industry, it was during her time with a specialist transport company based on the Gold Coast that she began to work with a web site that offered a large measure of interaction with the company's clients.
After a one day course at SiteSuite, Gail says she had acquired good basic knowledge of how the website operated.
"We recognise the importance of having a system in which the front end makes buying online a pleasant and easy to follow system for people, whether they are individual consumers, distributors or buyers for retail chain", she says.
With the latest version of the SiteSuite system this is achieved with a range of new functions including a mini shopping cart which displays the products chosen for purchase by a customer, thereby reducing the need for shoppers to navigate away from the store to view individual shopping cart items. A product options feature enables the display of images for each option, for example, different package sizes or colours.
Gail and Steve see the Pure Earth website as one of two "entrances" to their business, the other being the doors of their Gold Coast warehouse.
"It is tempting to see e-commerce as simply letting us just sit back and take orders but this is not the case," Gail Chadwick says.
"Search engine optimization and conventional marketing practices aside, we can't expect all orders from retail chains, distributors and individuals simply to land in an in-box. Nor is access to an information system that can capture and store information for 10,000 customers a guarantee of ongoing sales.
"Just as is the case with a 'bricks and mortar' store, we have to actively market the business using cold calling, responding to distribution enquiries from retailers and media advertising in which we target the organic market."
Ms. Chadwick says they have come a long way technically but when a challenge arises Pure Earth is able to draw on the extensive experience that SiteSuite has developed specialising in e-commerce for more than a decade.