Build a productive pre-launch website 'holding' page
by Tim Rimington | July 20, 2012
A holding page is a single, temporary 'Home' page that your domain name (web address/URL) is pointed to during your website build, and prior to its launch. A holding page typically consists of a logo and simple background, and a simple message such as, "Our website is coming soon" or "under construction".
However, a holding page can, and should, serve a more useful purpose. When you consider that a website build can take anywhere from 4-16 weeks (and in some instances, longer) depending on the complexity of work, that's opportunity to put your holding page to good use! A holding page can become an integral part of a pre-launch promotion campaign.
Create an offer and invite subscribers
Traffic generated via social networking sites can be directed towards the holding page to subscribe to an official e-newsletter announcement once the website goes 'live'. So long as there's a good enough offer in place, getting people to sign up via your holding page shouldn't be too great a challenge. With a potential email subscriber list growing via your holding page, you have a database of potential customers ready to email when your website goes live.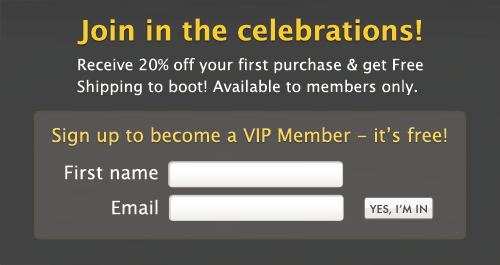 When your website launches, send your offer via e-newsletter
Free membership where subscribers receive ongoing special offers exclusive to members only
Free gifts or free shipping upon purchase via promotion discount codes
Make a purchase in the first 30 days to receive percentage or dollar value discounts
Create your discount coupon for online shopping
When your website goes live, create the promotional discount code based on the offer you've been promoting during your pre-launch campaign. If you're offering a 20% discount with free shipping for the website's first 30-days after launch, create a Discount Coupon and set a 30-day expiry date with 20% off and free shipping.
Discount coupons can be targeted to specific products or shop categories, so your pre-launch campaign can be based on virtually any buying scenario that you think of.
Non e-commerce websites can benefit too
If you're launching a website without e-commerce functionality your sign up incentive can easily be service and information based. This means that you offer registered members access to information via exclusive e-newsletters or password-protected web pages. As memberships grow, you could also introduce paid membership for premium information and services (and use that opportunity to enable your website for e-commerce so that your website generates direct income).
<!#--#include virtual="/app/comments/ajax/list/article_build-a-productive-pre-launch-website-holding-page?rurl=%2Fapp%2Farticles%2Farticles%2Fview%2Fbuild-a-productive-pre-launch-website-holding-page" -->
Don't Miss Anything
Get email updates when the next blog is posted.