Building a Facebook Page for Your Business or Organisation
by Tim Rimington | July 16, 2012
Estimates report that more than 11 million Australian users are registered on Facebook, which represents close to 65% of all online users in Australia. Buried amongst those stats are potential customers, so it makes good sense to address that audience by creating a Facebook page for your business or organisation.
About Facebook pages
A Facebook business, company or brand/product page features a timeline displaying posted activities of your business and that of your fans. This page should be viewed as a way to showcase your wares, provide special offers, and to engage with other users. Think of the page as a dynamic showroom that your fans love to visit.
The fact is, anyone can build a Facebook business or fan page in less than 15 minutes. But if the extent of your fan's involvement is simply 'Liking' an article or photograph, what use is that? The aim is engagement. Unless you're engaging your fans you're most likely wasting time.
A successful Facebook business or fan page is one where you get involved with your fans by posting replies to comments, uploading video and photos, and asking for opinions. Just like a website or blog, your Facebook page will only draw success if you get involved.
Getting started
Which type of Facebook page should you create for your business? It's perhaps best to create a page that best represents primary product groups or brands within your shop or website, but choose a type of page that best suits what you want to achieve. To this end, we suggest creating a 'product or brand' page if you have an online shop.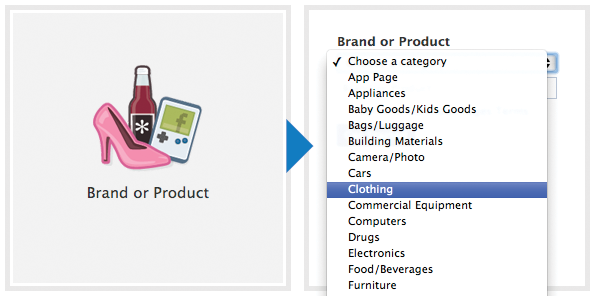 1. Create your page
Go to https://www.facebook.com/pages/create.php to create your page, and select 'Brand or product' from the available image options (as shown here). Next, select a suitable category from the drop-down list that best describes your products or brand. After this, you will be asked to create a unique URL for your page, so create something either identical to your new website's address or something similar to it. You want friends/fans to identify your Facebook page with your primary business and website.
You are now prompted to create a Facebook account or use an existing account. If you're a small start up business that already has a personal account, and you are the only person who will access the account, then create the page using your existing, personal account. Otherwise, create a new account from scratch.
2. Like the page
Facebook's automation process for setting up a page makes life easy. At this point simply press the familiar 'Like' button to become your page's very first fan.
3. Find and invite Friends
Next, you're asked to find friends. If you're using an established account simply check the boxes next to your friends list and start inviting!
You can also import email contact lists from a Hotmail, Yahoo! or other email accounts. Simply click the 'Invite email contact's icon located in your Facebook page admin panel.
4. Upload a relevant cover photo or banner image
Continue to follow Facebook's prompts until your page is set up and ready to customise. Now you can then upload a cover image that represents your new website. You will need an image that measures 851(w) x 315(h) pixels; if you're instructing a designer, have them create something that best represents your new website and the products or services you plan to promote. Make it interesting and engaging!
Become active and engage with your friends and fans
Begin by uploading interesting images or video, and provide incentives for fans to 'Like' or share your posts. Offering a reward for action is perhaps the most effective way of jolting people into action, e.g. click the 'Like' button to receive a once-only discount coupon, a free product with any purchase - anything that you believe fits the market you're attracting.
Once you've got followers it's time to engage. Get your 'friends' to share and comment on your posts by providing feedback and engagement. Each time a 'friend' shares or comments on one of your posts, your post displays on their Facebook timeline where their friends can see it. Propogation at its best!
Advertise on Facebook
You can create a pay per click (PPC) campaign on Facebook that advertises your Facebook page or your new website. You can choose to promote specific posts on your Facebook page, or your page as a whole.
Your ad can also be geo-targeted by choosing the country/s you'd like your ad to appear, as well as the state or city. You can even choose your market by specifying an age group – and gender – to which your ad will appear.
The budget that you set is entirely up to you, but we'd suggest starting low to begin with, monitor your ad's success, and adjust accordingly. There's a wealth of information on Facebook's website regarding how to create an ad that's ideal for you. You can learn more about creating ads or sponsored stories here: https://www.facebook.com/help/?page=175624025825871
Credit: The basis for this article was provided by Tracy Hek, SiteSuite's in-house trainer.
<!#--#include virtual="/app/comments/ajax/list/article_building-a-facebook-page-for-your-business-or-organisation?rurl=%2Fapp%2Farticles%2Farticles%2Fview%2Fbuilding-a-facebook-page-for-your-business-or-organisation" -->
Don't Miss Anything
Get email updates when the next blog is posted.