Google business view with Hotspots
A great new way to interact with your clients
As we mentioned in our last newsletter we have some very exciting new technology that we are currently launching. The first public launch was at the NSW Chamber of Commerce monthly event last Wednesday at Luna Park in front of three hundred business people.
To get a quick overview, please spend a minute or so to review Grant Hartley's video presentation on hotspots and how they work....
---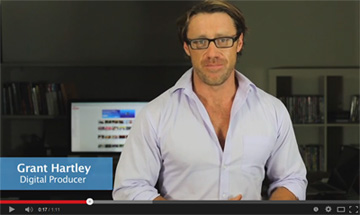 Our goal for clients is to develop a process where they can improve their chances of "being found" plus maximise their existing site traffic and online assets before going to the next stage of acquiring new traffic through PPC, adwords, or remarketing which we all know can be expensive.
By maximising your website's natural traffic, calls to action on the site, and conversions on the site, you can be confident you will be maximising your investment if you need to move to paid advertising and search.
Our last newsletter started that process by offering three simple ways to audit and improve your current website performance and online profile.
Google Places Optimisation and Directory Review - $450 plus GST
Call to Action Header Mini Makeover - $300 plus GST (subject to site design review)
Heat Map Review - $200 plus GST
---
We now want to help you with some new and exciting technology that can take your website to a whole new interactive level of engagement.
Just to quickly outline the evolution of this technology, and it's underlying potential for growth and online acceptance.
Google Street View offers a whole new way to explore your surroundings
Street View goes inside buildings with Google Business View
Hotspot interaction is developed and opened up on Google Business Views for Google authorised personnel.
Due to our close relationship with prominent Google approved photographers, SiteSuite is currently the only digital agency in Australia offering hotspot technology to clients.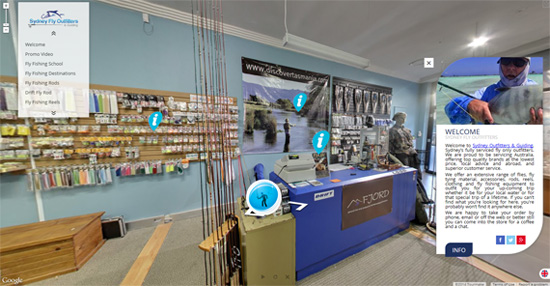 A recent example is the above fishing shop, please note we are currently in the process of redeveloping the underlying website. Since posting their Google Business View with hotspots on Facebook in mid November, with no promotion, Sydney Fly Outfitters & Guiding have had over 600 visitors review their Business View. The main point however is that the average time spent within the view is almost 8 minutes. This is the level of engagement and relationship building this technology can offer, people become actively engaged in exploring your business.
Hotspot uses are wide and far ranging, and a great way to add more "life" to your Google Business View.
highlight points of interest in the business view
add commentary, notes, and video about your business, products or services
buy straight off the shelf with a one page check out, or go to your main website shop
improve understanding about specific areas or equipment, eg how a piece of gym equipment works
view and book a particular table in a restaurant, or a room for an event
create promotions, and competitions
you can even imbed your business view in Facebook and use the one page checkout to create a store.
Please be aware that hotspots are set up totally independently of and hosted separately to your existing website, hence they can be applied to any Google Business View regardless of the underlying website software and hosting environment.
---
If you would like to learn more or see extended examples of how this exciting new technology can work in your organisation, please fell free to contact anyone in the wider sales team, namely;
Grant Goodger, Chris Sutton, Grant Hartley, Rian Herrick, or Leon Huang on (02) 8904 7500 or sales@sitesuite.com.au
PS You can also view our current Google Business View with hotspots.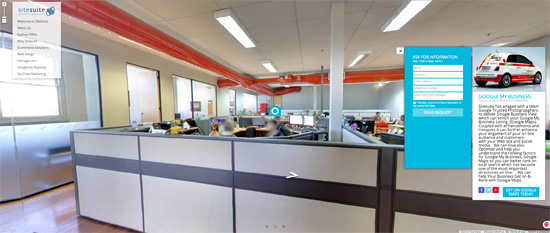 Co-founder and Managing Director of SiteSuite Australasia, Australian pioneers in web design and ecommerce since 1997. For more from Chris you can follow him on Google+ or Twitter, and for further professional musings and thoughts on his other passions in life, www.chrissutton.com
Don't Miss Anything
Get email updates when the next blog is posted.