Google+ Local Pages: How to Attract & Engage With Local Customers
by Tim Rimington | October 9, 2012
Google+ Local is a free service that allows Google users to find your business based on its location. As long as your business listing has a mailing address (for authentication) you can create a business page on Google+ Local.
Google+ Local replaces Google Places and merges Google's social media platform, Google+, with Google's local business pages. This allows Google+ users to share information about your business with their friends.
Google+ now claims to have 250 million registered users although the percentage of that number actively using Google+ is in question. Regardless, Google+ is fast becoming a popular social networking medium whose benefits are wide reaching for both businesses and general users.
Why you need to consider a Google+ Local page
Google+ Local is essential to any business wanting to be found by Google users. Whether you're a restaurant, café, camera shop, or deal exclusively online, Google+ Local brings social networking to your business' front door.
For example, you can list your opening hours, location, website address and business description, and also have Google+ users post reviews about your business. With reviews in one convenient place, business owners can respond to compliments or complaints. This demonstrates to people that your business is customer service focused by engaging with your customers.
Because of the enormous volume of Google users, business owners will need to pay close attention to their Google+ Local pages. Owners should ignore their page at their own peril!
A brief overview of Google+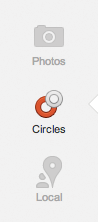 Google+ was launched in June 2011 as a response to Facebook. Google's intention was to create a place where its users could create their own user profile and share photos, video, web pages, reviews and places visited, with friends.
Circles
Google also understood that people wanted to separate their social groups, i.e. work, family and friends. Google's solution was 'Circles', a means where Google+ users could create various circles that represented each social group in their lives. Users could then decide which circle of friends to share information with. But Google+ is much more than just organising friends.
+1, Sharing & Hangouts
Google+ brings together many of the elements that made Facebook and Twitter so exciting. Features such as 'Trends', following other Google+ users (businesses and celebrities, etc.), sharing posts, 'Liking' posts via the '+1' button (Google's answer to Facebook's 'Like'), and so on.
Google+ users can instigate a 'Hangout', a term given to Google's video conferencing application. Say you find a web page, comment, photo or video you want to share with people, you can start a 'Hangout' with as many fellow Google+ users as you choose to discuss what you found. For businesses, you could invite an entire 'Circle' of colleagues to a conference call; you can invite customers to webinars or other events.
Events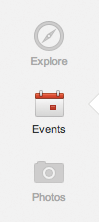 Events are the perfect place for bricks and mortar businesses to invite customers to promotion events, seminars, parties, and so on. Even if your business operates exclusively online, you can create sales promotion events, meet-ups, etc.
Once an Event is created you can promote the event with key photos and video, invite colleagues, customers and friends – by Circles or individually – then invite people to upload their photos after or even during the event. Photos can be uploaded in real-time, making Events ideal for seminars and networking.
Benefits of Google+ Local for your business
SEO benefits
Google will index Google+ Local business pages, so the SEO potential is enormous . Google takes into account the level of social engagement on your business page so it's of huge benefit for business owners to engage with their customers via their Google+ Local page. This means that the more people you attract to the page, the more people who write reviews and comments about you, the more links you provide back to pages on your website – and the more you engage with these elements, the more notice Google will take. This translates to better rankings on Google's search engine results pages (SERPs).
Ratings
Google+ Local features a ratings system that allows Google users to rate your restaurant, café or business. When Google users search for a product or service relevant to your business, any ratings left for your business are displayed in Google's SERPs and your business Google+ Local page. Anyone with Google a Google+ account can rate your business. The type of ratings that users can leave are geared towards your type of business, i.e. a restaurant is rated on its Food, Service and Décor; a non-hospitality orientated business is rated on Quality, Appeal and Service.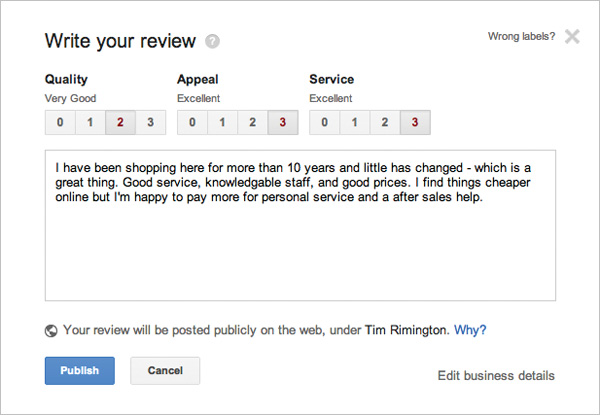 How do Google users find my Google+ Local page?
Google users can find your page in one of 3 ways. A regular search via Google, Google Maps or Google+. Users searching for a business via the Local tab within their Google+ screen will see a list of businesses based on the user's location search criteria (see the example above).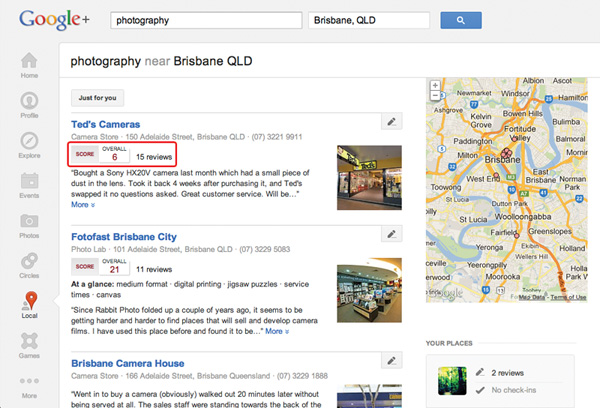 Don't forget the welcome mat
Always make sure that you present yourself as professionally as possible. This means uploading a quality banner profile image for your business. Leave this to a professional designer unless you already have pro photos on hand and are good with Adobe Photoshop.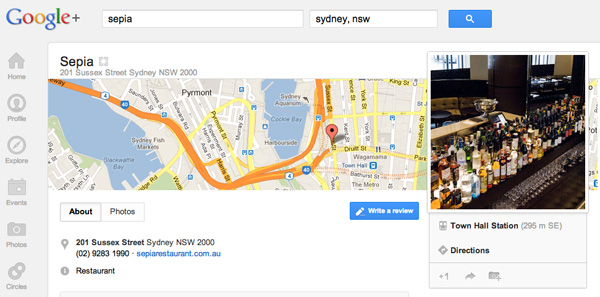 You will need two images, one long banner (940 x 180px) to represent the business as a whole, and the second (260 x 260px) as a logo or brand enhancement (e.g. a close up of your shopfront signage). You can substitute the banner with a group of smaller photos to represent the various products or services that you offer, in which case each will need to be 150 x 150px. Note, however, that Google displays these smaller photos zoomed when users click them, so uploading larger images is smarter; just make sure that they have the same aspect ratio, i.e. 1:1. If you don't upload suitable images, Google will simply display a Google map of your location.
Google Places online resources
<!#--#include virtual="/app/comments/ajax/list/article_google-local-pages-how-to-attract--engage-with-local-customers?rurl=%2Fapp%2Farticles%2Farticles%2Fview%2Fgoogle-local-pages-how-to-attract--engage-with-local-customers" -->
Don't Miss Anything
Get email updates when the next blog is posted.