The Beauty of Images
by Grant Goodger | July 16, 2019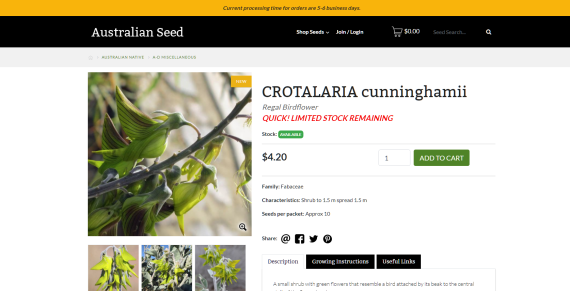 Over the years we have banged on a bit about how important great images are to a website. One of our clients Australian Seed recently launched a new product, and it effectively went viral amongst their client base with the main image getting 217,305 views. Gordon Russell the owner of the business worked 15 hour days for 7 days straight to process all the orders.
While something this special doesn't come along every day, it's important to remember that images make a lasting impression, and it helps to tailor them to your audience. For example when using images for Google Merchant, we help clients use images that will stand out from the side by side competition to help move the choice away from price alone.
Last week we discussed website speed, I'm pleased to say that in several cases we worked on last week we managed to lower home page speeds down from around 1.5 seconds to 30 milliseconds, giving on average a 10 point bump in Google page speed scores.
We improve online performance for our clients every day of the week, practice makes perfect. If you think you would benefit from us taking a look at your site or work flow, let us know we're always happy to help. You can reach us at help@sitesuite.com.au, or call in to have a chat to Leon or myself on 02 8904-7500.
Don't Miss Anything
Get email updates when the next blog is posted.