Is this the future of ecommerce?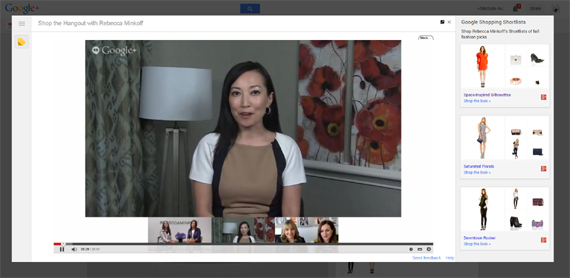 In the last couple of months I've seen an ecommerce development that might just herald a revolution for online sales.
Currently, there are two key elements within a website that influence a decision to buy (assuming that it's a well designed and built site), and those are the quality of the product description, and the quality of the images. Both of these elements have to show the customer exactly what the product is, and they must also anticipate possible questions and answer those questions with details of product benefits.
While there are more and more well constructed sites online, the customer experience can still be less than ideal when compared to traditional retail.
In a recent article interviewing some leaders in the online space, a common theme was the growing importance of mobile and evolution of the existing model, including: tighter integration of social media and social sharing, more video, and high growth in mobile usage. This is really more of the same, but done better.
However, I recently came across some examples that use technology in such an innovative way that they may drastically change the online customer experience and may just change ecommerce completely.
We are all familiar with the use of video on ecommerce websites, for product information, testimonials etc. but what these sites are doing is using the Google Hangouts on Air tool to create what is almost an interactive shopping channel. They have some key elements of TV shopping channels, especially live streaming by presenters, but the difference is that potential shoppers can login and participate in the discussion, ask questions and have them answered on the spot. The current sites are enabling immediate purchasing and giving away promotion codes for those purchases.
At present, these sites are feeling their way and finding out what works as they go. If the conversion rate for sales is good, you can be sure that this type of online commerce will spread quickly, and that production values and systems will quickly become more sophisticated.
Read moreabout this development
and click the links below for some examples:
SHOPTHEHANGOUT with Rebecca Minkoff

Co-founder and Managing Director of SiteSuite Australasia, Australian pioneers in web design and ecommerce since 1997. For more from Chris you can follow him on Google+ or Twitter, and for further professional musings and thoughts on his other passions in life, www.chrissutton.com
<!#--#include virtual="/app/comments/ajax/list/article_is-this-the-future-of-ecommerce?rurl=%2Fapp%2Farticles%2Farticles%2Fview%2Fis-this-the-future-of-ecommerce" -->
Don't Miss Anything
Get email updates when the next blog is posted.