Essential Business Books - Blue Ocean Strategy – W. Chan Kim & Yves Renée Mauborgne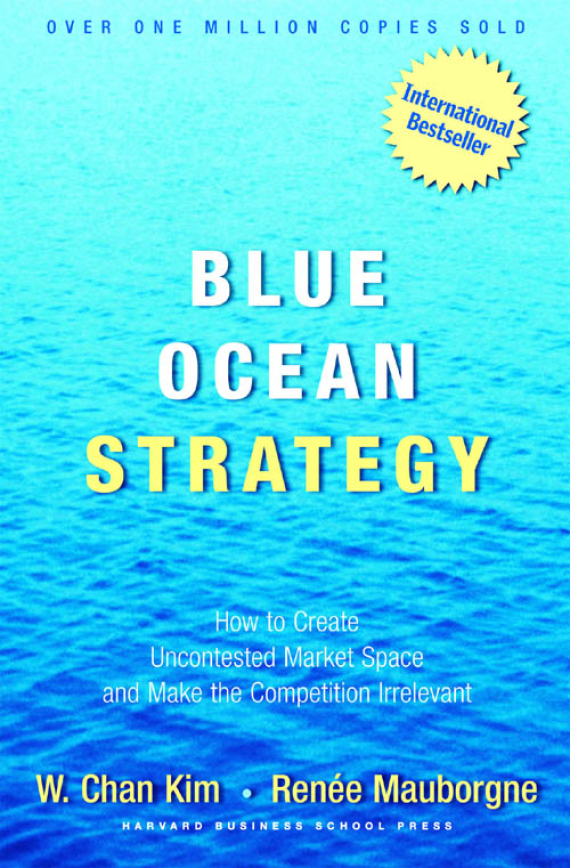 If you have been following this series of reviews, you may have already discovered that Blue Ocean Strategy is featured in the "Business Model Generation" book. And given that the innovative proposition of Blue Ocean Strategy pre-dates Business Model Generation by five years … this tells you a lot about the lasting value of Blue Ocean Strategy [BOS]. It sits at #1 in the Strategy & Competition list of that well-known online book seller, after nine years … and it's been there for most of that time.
So BOS cannot be ignored, and the book cover that says it all "How to create uncontested market space and make the competition irrelevant". But it's not the easiest of reads, so please persevere and ignore the dates on the case studies, research and examples … given my earlier remarks. Frankly, I know a lot of people who have given up, but for me this more recent linkage with Business Model Generation and the world of entrepreneurial innovation is a significant one.
The core proposition is to find that uncontested market where you have the blue ocean all to yourself … well away from the red ocean (shark-infested being clearly inferred) of competitors continually fighting for market share. Yes, you could argue that a particular market will grow, so you will grow your share … but that's still an ongoing fight.
The six guiding principles look generic:
Reconstruct market boundaries
Focus on the big picture, not the numbers
Reach beyond existing demand
Get the strategic sequence right
Overcome organisational hurdles
Build execution into strategy.
But the book has the tips and tricks and approaches to deliver on each of them. And the supporting website has a huge amount of supporting resources.
So, take the gloves off, swim away from the sharks and get the competitive juices flowing by taking a sticky beak / tiki tour / look at Blue Ocean Strategy.
John Groarke has been a management consultant for 32 years working for global and local firms in senior client-facing and back-office roles.
Currently, he is the Principal of a consulting firm that works with services and services-led enterprises to develop sustainable and profitable enterprises. His whole approach is a mentor-based one and clients include; consultants, professional advisors and services-oriented small businesses.
John provides business mentoring services to SME clients of the Australian Government's Enterprise Connect initiative. And he runs workshops on consulting / professional advisory and small business topics for some NSW Business Enterprise Centres.
In 2005, he decided to pursue a 'giving back' strategy and John's 'pro-bono dance card' includes; NSW Enterprise Workshop, Women in Film and Television NSW, and the Small Business Mentoring Service. John is a long-term supporter of the NSW Government's small business initiatives – previously Small Business September and MicroBiz Week – and now Small Biz Connect.
John knows that I can make a positive and valuable difference to service-oriented businesses. He can be found via www.jegmc.com.
Don't Miss Anything
Get email updates when the next blog is posted.