Essential Business Books - Business Model Generation - Alexander Osterwalder & Yves Pigneur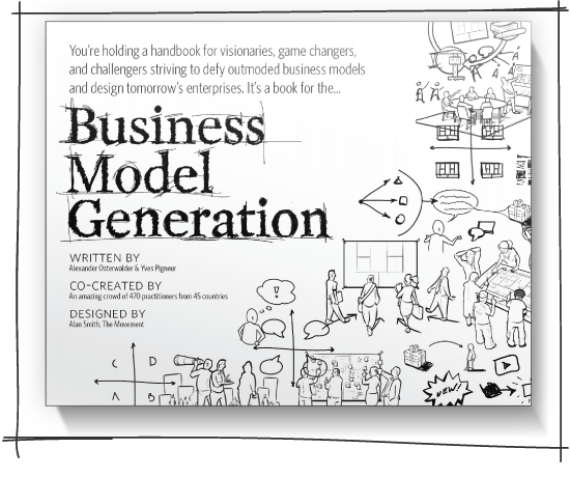 The cover of this book says "… design tomorrow's enterprises", but I think it's also for today's enterprises, because are you crystal clear about your business model?
My observation is "probably not" to "no", and that comes from working with over 400 enterprises during the past 42 years, and meeting or speaking with hundreds more.
So this truly great handbook will greatly help you to simply model the 'here and now' as well as the 'desired future'. And I mean simple to the power of two – simple model and simple modelling procedure.
A business model is defined in a Business Model Canvas of nine (9) building blocks:
Customer segments
Value propositions
Channels
Customer relationships
Revenue streams
Key resources
Key activities
Key partnerships
Cost structure.
You may say that this quite obvious and you are right, but the art is in the distinctive procedure to develop and populate the canvas in a graphical way. You start by printing out the canvas on a large sheet of paper, A0 (= 1 square metre) is good, and then documenting your thinking on post-it notes for each of the blocks, as you work through the five (5) part procedure:
Canvas the tool
Patterns different model patterns
Design techniques
Strategy re-interpreting current strategy
Process the modelling process.
There's clearly great value to just model the 'here and now', because you will find soft spots and inconsistencies, maybe gaps. And if you do model a 'desired future' using the same procedure then the actions needed to transition to it, will literally jump of the canvas.
You cannot ignore this book … and it paves the way for the next essential books in this series.
View the website here: https://www.strategyzer.com/books/business-model-generation
John Groarke has been a management consultant for 32 years working for global and local firms in senior client-facing and back-office roles.
Currently, he is the Principal of a consulting firm that works with services and services-led enterprises to develop sustainable and profitable enterprises. His whole approach is a mentor-based one and clients include; consultants, professional advisors and services-oriented small businesses.
John provides business mentoring services to SME clients of the Australian Government's Enterprise Connect initiative. And he runs workshops on consulting / professional advisory and small business topics for some NSW Business Enterprise Centres.
In 2005, he decided to pursue a 'giving back' strategy and John's 'pro-bono dance card' includes; NSW Enterprise Workshop, Women in Film and Television NSW, and the Small Business Mentoring Service. John is a long-term supporter of the NSW Government's small business initiatives – previously Small Business September and MicroBiz Week – and now Small Biz Connect.
John knows that I can make a positive and valuable difference to service-oriented businesses. He can be found via www.jegmc.com.
<!#--#include virtual="/app/comments/ajax/list/article_essential-business-books-business-model-generation-alexander-osterwalder--yves-pigneur?rurl=%2Fapp%2Farticles%2Farticles%2Fview%2Fessential-business-books-business-model-generation-alexander-osterwalder--yves-pigneur" -->
Don't Miss Anything
Get email updates when the next blog is posted.