Essential Business Books - Running Lean (2nd Edition) - Ash Maurya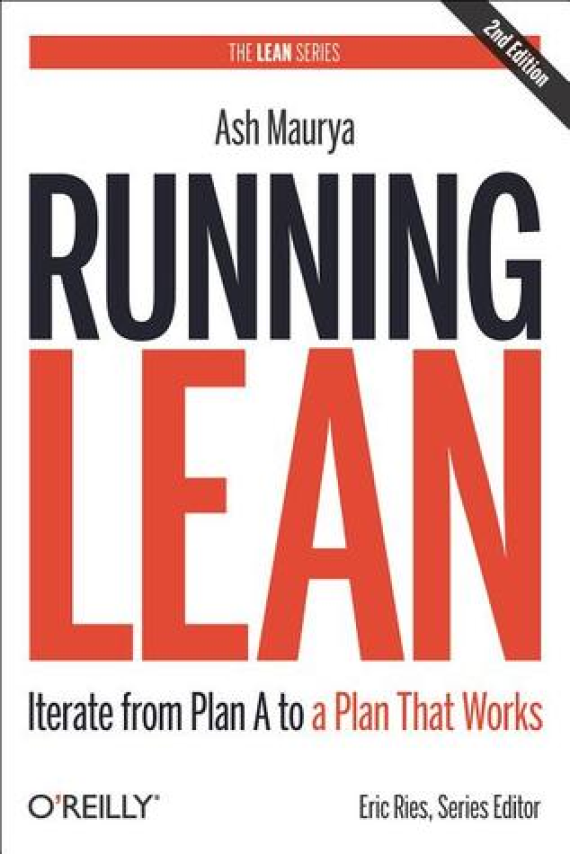 This is it! … Running Lean (second edition) brings together Business Model Generation (Alexander Osterwalder & Yves Pigneur) and The Lean Startup (Eric Reis) in a very very practical way … Ash Maurya has operationalised their good work. Even if you hadn't read either of those other books, then you would be able to start here on your entrepreneurial / intrapreneurial innovation journey. But I would rather you read them first, for essential background and completeness.
Running Lean is defined as; a systematic process for iterating from Plan A to a plan that works, before running out of resources.

Running Lean utilises the Lean Canvas which is Ash's variant of Osterwalder & Pigneur's Business Model Canvas, the one-page business model diagram you will have already seen.
The Running Lean methodology can be summarised into three steps:
Document your Plan A
Identify the riskiest parts of your plan
Systematically test your plan.
As an example Ash has applied these 'meta principles' in a case study … an outline of his process to write this book! And it works … the book is a clearly written 'how to' guide … just turn the pages and your own work with evolve!
Ash uses the 'startup' word a lot, but Running Lean works for non-startups too. I have just used it to conduct a R&D Program Review, and not only did we discover holes in the current program, but we also developed significant insights into the future program.
Again, there is significant complementary value to be obtained by subscribing to Ash's blog and reviewing the content on his website. These will keep you right up to date on how Running Lean is being applied around the world.
John Groarke has been a management consultant for 32 years working for global and local firms in senior client-facing and back-office roles.
Currently, he is the Principal of a consulting firm that works with services and services-led enterprises to develop sustainable and profitable enterprises. His whole approach is a mentor-based one and clients include; consultants, professional advisors and services-oriented small businesses.
John provides business mentoring services to SME clients of the Australian Government's Enterprise Connect initiative. And he runs workshops on consulting / professional advisory and small business topics for some NSW Business Enterprise Centres.
In 2005, he decided to pursue a 'giving back' strategy and John's 'pro-bono dance card' includes; NSW Enterprise Workshop, Women in Film and Television NSW, and the Small Business Mentoring Service. John is a long-term supporter of the NSW Government's small business initiatives – previously Small Business September and MicroBiz Week – and now Small Biz Connect.
John knows that I can make a positive and valuable difference to service-oriented businesses. He can be found via www.jegmc.com.
Don't Miss Anything
Get email updates when the next blog is posted.