Essential Business Books - Smarter Selling – Keith Dugdale & David Lambert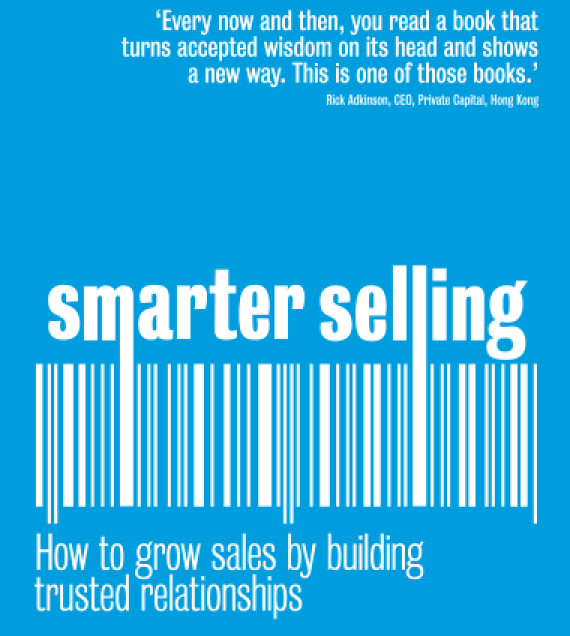 We all need to sell … products, services, ideas … so varying from the tangible to the intangible. And there are many sales methodologies to help you along the way. Some stand the test of time, while others are just a flash in the pan … a passing fad … a fashionable item.
Smarter Selling is a sales methodology which will stand the test of time. It's not a consultative problem-solving methodology, but it climbs upon those shoulders as a very collaborative selling methodology. The objective is for the seller to facilitate the buyer's thought process, thus helping the buyer to achieve their goals, through a more instinctive process.
The authors call this is a "true consultative selling approach" and I fully agree with them. I first read the book cover to cover one weekend and I realised that not only would it help a seller, but it would also help a deliverer, an implementer, to perform better. And if this was one and the same person, as might be the case in a small company then this was a double win (because there's no leading book on consultative delivery!).
It's a hard road though, especially if you've never experienced a consultative approach. But you will be helped by a book full of 'tips and tricks', as well as some very useful resources on the website. You could even score your selling ability before and after reading the book by taking an online behavioural questionnaire. And the list goes on, with more assessments, free resources as well as formal training programs.
What I particularly like about the book are the self-contained chapters, with each starting off with a case study and finishing off with key messages and learnings.
The name of the book says it all – Smarter Selling! – which is why it sits at #02 in this series of Essential Business Books reviews.
Visit the website: www.ioweu.com
John Groarke has been a management consultant for 32 years working for global and local firms in senior client-facing and back-office roles.
Currently, he is the Principal of a consulting firm that works with services and services-led enterprises to develop sustainable and profitable enterprises. His whole approach is a mentor-based one and clients include; consultants, professional advisors and services-oriented small businesses.
John provides business mentoring services to SME clients of the Australian Government's Enterprise Connect initiative. And he runs workshops on consulting / professional advisory and small business topics for some NSW Business Enterprise Centres.
In 2005, he decided to pursue a 'giving back' strategy and John's 'pro-bono dance card' includes; NSW Enterprise Workshop, Women in Film and Television NSW, and the Small Business Mentoring Service. John is a long-term supporter of the NSW Government's small business initiatives – previously Small Business September and MicroBiz Week – and now Small Biz Connect.
John knows that I can make a positive and valuable difference to service-oriented businesses. He can be found via www.jegmc.com.
<!#--#include virtual="/app/comments/ajax/list/article_essential-business-books-smarter-selling--keith-dugdale--david-lambert?rurl=%2Fapp%2Farticles%2Farticles%2Fview%2Fessential-business-books-smarter-selling--keith-dugdale--david-lambert" -->
Don't Miss Anything
Get email updates when the next blog is posted.