Give your online store an edge with SiteSuite's new eCommerce Product Attributes feature
by Tim Rimington | October 12, 2012
SiteSuite's new Product Attributes feature allows online merchants to label products with additional characteristics such as brand, size or colour, by attaching tags or 'keywords' to products. Defining special attributes or characteristics of products makes it easier for customers to search for, filter, and compare the products they want to buy. Think of SiteSuite's Product Attributes functionality as printed labels/tags hanging from items in a retail store.
It's about making product search for customers easier (and improve sales conversions)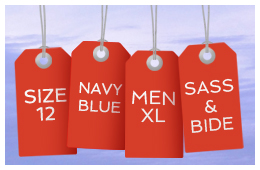 Online shoppers must be able to quickly locate products relevant to their wants and needs rather than having to sift through categories and sub categories to arrive at the page they're after. By providing labels/tags to products, a refined search function can be provided to speed up the search process and reduce the potential for frustration and early page exits.
How does it work?
How it works is simple: online merchants create custom Attribute Sets such as 'size', 'colour' 'shape' or 'brand' before assigning values (keywords) to each of these Attribute Sets. Each Attribute Set can contain as many values as necessary such as, in the case of a 'colour' Attribute Set, 'red', 'yellow', 'blue', and so on. Once the necessary Attribute Sets have been created, they are made available via the My Shop product pages in SiteSuite CMS where they can then be assigned to products as required. Any product can have one or more Attribute Set values assigned to it, making it ideal for apparel, hardware or any product requiring detailed classification for the benefit of shoppers.
With products effectively 'tagged' with relevant Attribute Values, shoppers can locate, say, a men's size 10 shoe in black rather than having to wade through every shoe in any given shop category.
How are traditional shop categories affected?
So with Product Attributes in use, what happens to shop categories? Product Categories will always remain an important categorising tool. Just like a retail shop, products still need to reside in their relevant categories in-store – it's just that those same products now have labels/tags attached to them for customers to further refine their searches; no different to browsing the women's summer dress section of an apparel store.
Take a look at Product Attributes in action
Visit the brand new 'The Golf Society' website at www.thegolfsociety.com.auand follow the links to their online store.
Sounds great, how do I get it installed on my store?
Product Attributes is now a standard feature within the v4 SiteSuite CMS eCommerce module but how it presents to your online shoppers is up to you, and this will determine the level of work undertaken by us to install this on your website. If you're content with the Product Attributes standard styling, then there's no cost. Pretty good, eh?
As you can see from the www.thegolfsociety.com.au example, Product Attributes is presented to shoppers as a 'Refine by' list displayed in the left hand column and styled to this client's instructions. Depending on the complexity of styling you require (i.e. colour, font, spacing, positioning, etc.) we're looking at 6hrs work, which includes install and testing. For this we would charge $900 but as a special offer we will carry out the work for $500 + GST.
Please note that stores using older versions of SiteSuite CMS will need to be reviewed and quoted accordingly (at a reduced rate, naturally, to keep in line with our offer).
Please call our sales team on (02) 8904 7500 for more information or email sales@sitesuite.com.au.
<!#--#include virtual="/app/comments/ajax/list/article_give-your-online-store-an-edge-with-sitesuites-new-ecommerce-product-attributes-feature?rurl=%2Fapp%2Farticles%2Farticles%2Fview%2Fgive-your-online-store-an-edge-with-sitesuites-new-ecommerce-product-attributes-feature" -->
Don't Miss Anything
Get email updates when the next blog is posted.