Google Farmer algorithm and what it means to your Ecommerce website SEO
by Tim Rimington | March 11, 2011
Unless you're walking the halls of SEO you probably aren't aware of the 500 or so changes that Google makes to its search-results ranking algorithm each and every year. Some of these changes have little discernable impact on our businesses, however, Google's most recent significant change, the so-called "Farmer" algorithm has been reported to have affected some 11.8% of Google search queries in the U.S. Over the coming months it may also affect your business so today's blog is a very important one and we urge you to research the Google "Farmer" update's potential impact. The official Google title for this update is "Panda" but industry commentators are calling it the "Farmer Content update".
It's presumed that the Farmer update was released to combat content farms that produce low quality content (and often keyword-rich text that reads poorly) for the purpose of generating advertising revenue.
Google fellow, Amit Singhal, wrote on the official Google blog late last month, "This update is designed to reduce rankings for low-quality sites - sites which are low-value add for users, copy content from other websites or sites that are just not very useful. At the same time, it will provide better rankings for high-quality sites - sites with original content and information such as research, in-depth reports, thoughtful analysis and so on...to start with, we're launching this change in the U.S. only; we plan to roll it out elsewhere over time".
With "Farmer" due in countries outside the U.S. soon, it's now even more important to ensure that your page and product page SEO is in tip-top condition. It's therefore vital that you review your website page and Ecommerce store content.
Step 1: Replace any copied page content with your own
Do NOT copy information from a manufacturer's website and place on your own website. Instead, re-write the copy and add additional information that you believe will benefit your customers. Include your own observations about the product, your own experiences and so on. Your OWN words!
Step 2: Add product reviews, video and/or detailed product images
Consider adding product reviews, videos and detailed images to your product pages. Always enter image titles and descriptions for every image used.
Step 3: Learn, Observe & Implement page SEO principles & techniques
SEO is a tough subject for some but the days of being blissfully unaware of SEO are now over. Observe standard SEO structure such as a descriptive h1 (Heading 1) tags (the h1 heading/code assignment is automatic for all SiteSuite Ecommerce websites).
For Ecommerce websites, start with descriptive product titles, e.g. instead of "Earrings L34" (L34 being the stock number), have "Diamond encrusted sterling silver earrings". Instead of "Hamilton Box Set", have "Hamilton Natural Bristle Paint Brush Box Set". Make your product titles as descriptive as possible. The best way to approach this is to assume that customers have no idea what the product is. So a product title, "Hamilton Box Set" does little to describe the product unless perhaps you're a member of staff!
For non Ecommerce websites, begin with a descriptive heading at the very top of the page. Assign the heading a "Heading 1" style tag using your CMS page editor's text-formatting dropdown list (see below). Do not have at the top of a page headings such as, "Welcome to our website" or, "About us". Make the "Heading 1" as descriptive of the page content as possible.
Example:

Using your CMS page editor, tag page headings with "Heading 1" for the first heading, "Heading 2" for the second, "Heading 3" for the third and so on. Ecommerce websites use the product title as the "Heading 1" tag automatically, so instead begin product pages with your initial descriptive paragraph, followed by a "Heading 2" tag instead (non product pages must begin with a Heading 1 tag right up top). Your most important information is always up top and gradually filters down the page as information becomes less important (or "weighted"). Just think of a newspaper; Important headlines up top, less important as you move down the page.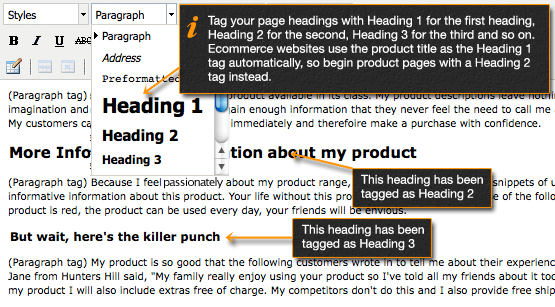 Learn more by downloading the free SiteSuite SEO "trade secrets" PDF from our website.
<!#--#include virtual="/app/comments/ajax/list/article_google-farmer-algorithm-ecommerce-website-seo?rurl=%2Fapp%2Farticles%2Farticles%2Fview%2Fgoogle-farmer-algorithm-ecommerce-website-seo" -->
Don't Miss Anything
Get email updates when the next blog is posted.