Productivity gets a boost with our updated Customer Order management section
by Tim Rimington | July 10, 2012
This week sees the release of an important update that will affect Orders management within SiteSuite CMS.
Developed as part of our major Temando integration (see below), the new orders section also includes some changes requested as part of our recent feedback request.
The new orders interface is designed for improved usability as well as providing a platform for incorporating additional functionality in future releases.
In this release we've focussed on improving usability as well as adding some new features.
Where will I see improvements?
The old order search screen is replaced with a new order list search screen. Now you go directly to the orders screen instead of a search screen.
Currently the orders screen has a drop-down filter menu, this has now been been enhanced to provide navigable tabs for all order status options.
New Payment Status column to quickly view if payments have been completed.
New Order Activity menu
New customer order screen. This includes a new tabbed interface with payment attempts recorded if your payment gateway is one that provides the necessary data feedback.
In addition to orders management, online shoppers will be able to add a delivery message to their order. This information will appear on packing slips and invoices.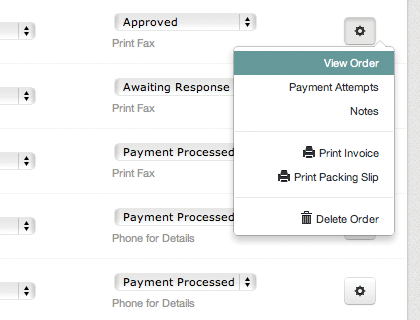 ---
New Customer Orders Screens
Changes that you will see include:
Order total cost breakdown
Icon-driven order status for more intuitive order management
Automated credit card payment attempt logs (for participating payment gateways only)
---
Find orders fast with the new order filter feature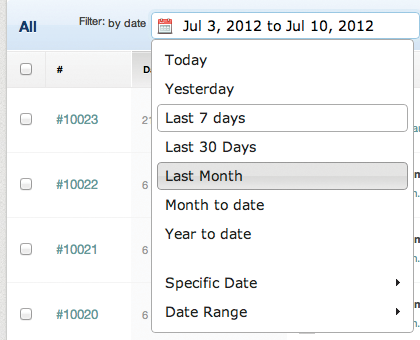 Locating orders was previously made available from the Orders landing page. That's now changed.
You can now locate orders based upon these drop-down menu options:
Today
Yesterday
Last 7 Days
Last 30 Days
Last Month
Month to Date
Year to Date
Specific Date > pop-up calendar
Date Range > pop-up calendars
Order search now works even better for large volumes of orders. Perfect for busy online stores! Simply type a customer order number or customer name into the search field for faster order access.
---
Temando will boost conversions and save your shipping costs
Temando is a shipping and order fulfilment system that integrates with SiteSuite CMS, and will be released very soon.
What will Temando do for me?
Enable you to provide shipping quotes to customers before they add to cart; this will boost your conversions.
Provide you the tools to optimise package types and sizes and obtain revised quotes from your chosen carrier.
From the list of freight quotes displayed, you will be able to choose the most appropriate freight option for each shipment, which enables you to make significant shipping cost savings.
Will enable you to book the pickup of your packages by your chosen carrier directly from the Orders Module.
Temando integration with SiteSuite CMS will be seamless and you can use it as often as you wish, or not at all.
We will announce this important release, with detailed notes, prior to the launch later this month.
Don't Miss Anything
Get email updates when the next blog is posted.