Time is running out – Google sets a deadline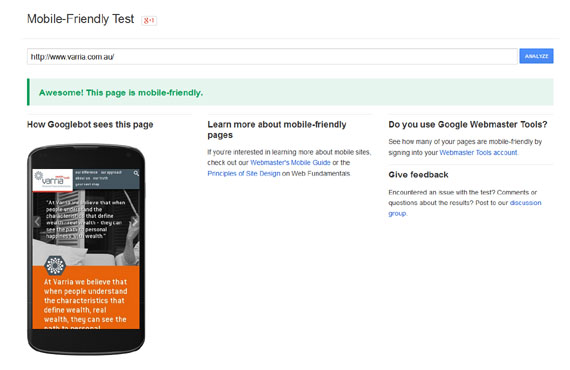 What would happen to your business if you suddenly lost half of your potential customers?
This is exactly what might happen in April when Google releases an update focused on mobile friendly websites.
Recently Google published a blog titled " Finding more mobile-friendly search results" that detailed an update to be released on April 21. In Google's words;
This change will affect mobile searches in all languages worldwide and will have a significant impact in our search results. Consequently, users will find it easier to get relevant, high quality search results that are optimized for their devices.

This becomes even more significant given that more than half of Google searches are now done from mobile devices. For all of those searches, any site that isn't mobile friendly will likely suffer a significant drop in rankings.
This is also the first time that Google has announced a specific date for an update and highlights the importance of the change.
While Google are quite specific about the significance of the impact on mobile search, they don't say what might happen for desktop search. However, it would seem logical that the ranking impact for mobile search might also impact on desktop search.
The risk to businesses is clear, all websites now need to be fully mobile ready. If you're not sure about your site, just type your site domain address into this Google test tool.
What can I do to protect my rankings?
The answer is simple, if your website isn't currently mobile friendly, then it will need to be converted to be mobile ready for all devices.
Making this change will have the dual benefit of helping to maintain your search rankings, but even more importantly you will likely see an improvement in conversions on your website as your customers find it easier to navigate and read.
What do I do now?

Every website is different so we need to assess your current site before making any recommendations. If you're not a SiteSuite customer we can still assess your website free of charge.
Many of our customers take the opportunity to give their site design a refresh when we rebuild for mobile use, so if your site is more than a couple of years old, now is a good time to think about that update.

Simply call us on (02) 8904 7500 and ask for Ankit, Rian or Leon. We'll review your website and give you our recommendations within 24 hours.

Co-founder and Managing Director of SiteSuite Australasia, Australian pioneers in web design and ecommerce since 1997. For more from Chris you can follow him on Google+ or Twitter, and for further professional musings and thoughts on his other passions in life, www.chrissutton.com
Don't Miss Anything
Get email updates when the next blog is posted.